Gold Coast Real Estate Agent - Tim Gerards
Harcourts Pacific Pines
Ambitious, Driven, & One of Australia's Most Successful Sales Agents.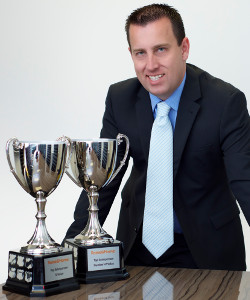 Why you may ask? It's easy. Tim Gerards has a vision for success - that his clients get only the BEST RESULTS. & why not? He is 38 years of age, has won numerous awards for highest number of listings, highest number of sales & dollar value. He is even a multi million dollar property investor himself. He has lived on the Gold Coast since 1985, purchased his first home in 2001 at the age of 21 & has never looked back.
Why Tim Gerards?
These days Tim Gerards has many clients that come back with repeat business time & time again. If you ask him why he is different from any other agent, he will tell you straight up "It's simple. Service, communication & results. But most of all TRUST." The measure of success is in doing things that other sales agents don't want to do. That's why Tim Gerards sets no limits, having listed properties over 1700kms away from his designated area (& SOLD them.)
He is a great negotiator & doesn't stop until he get RESULTS, having closed deals at Midnight while other agents are asleep. This is why he is successful at what he does. Tim has a passion & expertise for the Gold Coast, especially in the area of Nerang, Carrara & Highland Park, where he himself is a local home owner, investor and resident.
Most good agents sell between 15-25 properties per year. Tim sells between 100 and 200 properties per year. In 2015 with his former brand he was ranked #1 in Queensland & #2 in Australia. Now Tim has joined Harcourts, a trusted brand since 1888. If you want an agent that "GETS THE JOB DONE", has over a decade of experience in real estate, with the passion & drive that will surpass every other agent in his area, then contact Tim Gerards today and find out why your neighbours too, have chosen him to sell their home.